The Greystones Sensory Garden is finally complete and we warmly welcome the entire community to enjoy this hidden yet very accessible secret in Burnaby Park.
The garden officially opened on 8 October 2021. We thank all of those who were able to join us and give our apologies if we forgot to invite anyone. It was a special day at the official ribbon cutting with great speeches by our local Cllrs. and TDs, the Lions Club, and project leaders.
Without the support of our sponsors, funding partners, and members of Greystones public we could not have done this. To each and everyone a huge thank you.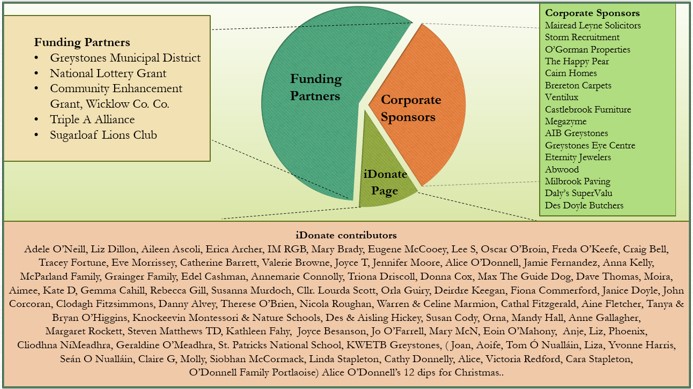 Greystones Sensory Garden, a Greystones Tidy Towns led project in collaboration with Greystones Municipal District and Wicklow Triple A Alliance. Together, and with the support of the community, we hope to transform an eyesore in the park into a place of beauty, peace and tranquillity.
Greystones Tidy Towns has always been committed to making a difference in the lives of both humans and non-humans in the town with our various projects and we hope that this Sensory Garden will further enhance the environment of our rapidly expanding town by providing a peaceful and tranquil space for children on the various spectrums such as autism, children with special needs and children with Downs Syndrome. The area will also be accessible to wheelchair users and anyone with mobility or intellectual difficulties. The facility will also be a useful form of therapy in the care of people with Dementia and be of benefit to members of our older community by allowing them a space to relax and meditate.
GTT has been working on this project for several years now and after teaming with the experts at Triple-A Alliance have designed a preliminary plan.
We all like to be part of something, don't we? Greystones has always been such a melting pot of folks who come from around the world to settle and make their home in our gorgeous town. Our local autism charity Wicklow Triple A Alliance has embarked on an ambitious project to make our county of Wicklow a truly Inclusive Community. This project is a collaboration of disability advocates and service providers who are working to create an environment that is welcoming, accepting, and understanding of hidden disabilities such as the ones listed above. We are proud to create a community space that invites all sectors of our community, no matter what their ability to relax and participate together!
For those of you familiar with Burnaby Park you probably are aware of the neglected section hidden in the southeast corner of the park, behind the memorial stone and copse of trees. This is a perfect area to beautify and enhance biodiversity, additionally, it provides a special area in the centre of town for those who need a bit of quiet time.
What is a Sensory Garden?
Appealing to the senses with flowers, shrubs, herbs, and other landscape features. A sensory garden is a garden environment that is designed with the purpose of stimulating the senses. This stimulation occurs courtesy of plants and the use of materials that engage one's senses of sight, smell, touch, taste, and sound.
Sensory gardens have been shown to generate countless benefits to users with Intellectual Disability, Autism, Sensory Processing Disorder, Anxiety, and Depression, Alzheimer's and Dementia, Acquired Brain Injury, Spinal Cord Injury, and more. It can also just be a pretty cool place just to hang out and have a chat.
What are the benefits?
Sensory stimulation – Many people with neurological differences can have challenges with sensory processing. They can either sense things too much, too little, or a combination of both! This can make navigating the world pretty difficult. Imagine brushing your teeth in the morning was painful.. Or if the uniform you had to wear for school or work was so uncomfortable that the fibres felt like they were cutting your skin… What if the background noise in your office was felt so distracting to you that you felt like you were going to be sick from anxiety? These are some of the ways a person with sensory processing issues can feel on a daily basis. A sensory garden allows the person to stop, take time out to readjust their senses in order to go back out and battle on with the day!
Promoting physical activity
Often those with disabilities can find it difficult to get out and active as much as they would like to. For instance, some people might have low muscle town or hypermobility, which can make walking long distances difficult. Also, the challenges around balance and coordination some people may have due to sensory processing challenges can make navigating crowded or unfamiliar spaces scary or even dangerous. A sensory garden allows a person who might have these challenges to exercise their senses in order to overcome these difficulties. Also, exercise as we know is pretty good for our mental health too!
Meditation and stress release
If Covid-19 has taught us anything, we can all agree that we need to reduce the stress in our lives. Slowing down has been so therapeutic for many of us. A trip to the sensory garden on your way to or from work can be just what is needed to shake off the stresses of the day! Try our specially designed Forest bath seat to take a moment to stop, breathe, and revive!
To find out more or to volunteer please contact or visit:
Share This: