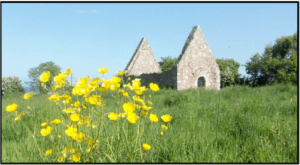 Rathdown Heritage Park (St. Crispin's)
Background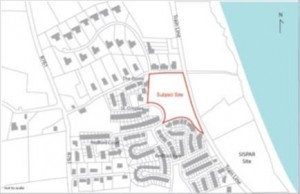 St. Crispin's is located to the north of Greystones between the sea and local residential areas from where it provides access to the east of the railway line and to the Bray-to-Greystones Cliff Walk and Greystones North Beach.
The 2 ha site is owned by Wicklow County Council and contains the ruins of St. Crispin's Cell and Captain Tarrant's Farmhouse and Outbuildings. The site also contains evidence of pre-historic, early Christian, medieval and post-medieval settlements. The ruins are all Protected Structures and the site itself is protected under the Greystones Local Area Plan which seeks 'to protect the character of this area as a heritage and amenity area for public amenity and education'. However, the site and the buildings are overgrown and neglected and vandalism in the form of graffiti and littering is rampant.
With this in mind, a local Urban Design and Planning Consultant, in cooperation with Greystones Tidy Towns, prepared the 'Rathdown Heritage Park Design Strategy' which suggests reviving the site, using a bottom-up and phased approach that can be carried out as funding becomes available. In December 2014 the 'Strategy' was officially submitted as a contribution to 'Wicklow County Development Plan 2016-2022' and to the 'Local Economic and Community Plan'. The 'Strategy' provides a comprehensive description as well as maps and drawings of the present St. Crispin's and of the interventions that are suggested in order to develop the site to become the 'Rathdown Heritage Park'.
Plans and work done so far
Using the above 'Strategy' as our guide and following a general clean-up and litter removal in 2014, our focus for 2015/16 is on having a proper footpath constructed, on having benches and tables placed along the footpath, on having interpretive signs placed on the site, on having repairs carried out on the ruined and protected Captain Tarrant's Farm Buildings, and on having a geophysical survey of the site conducted.
In respect of the footpaths we raised funds (during 2015) for a temporary solution and submitted our plans to the District Engineer for his approval. As the engineer thought our proposal unrealistic, the Wicklow County Council agreed to construct the footpath and fund it from its tourism budget. The construction was started late 2015 and will be completed early 2016.
Work in Progress…
Works at St. Crispin's Field – Rathdown Heritage Park
A lot done …
1985-2005
Research of Rathdown heritage by 'Friends of Historic Rathdown'Periodic clean-up efforts at St. Crispin's
2000-10
St. Crispin's Field deteriorates and is used for dumping and antisocial behaviour
2010
Major clean-up – organised by Councillor Simon Harris
2010-13
'Rathdown Heritage Park Design Strategy' prepared and principles of Strategy adopted by Greystones Tidy Towns
2014
Major clean-up by Greystones Tidy Towns
2015
Funds for footpath raised by Redford Park Residents' Association
2015
Interpretive signage produced thanks to a grant from the National Heritage Council.However burned in fire at Wicklow County Council (WCC) stores.
2016
Footpath installed by Wicklow County Council
2016
Quote obtained for making Captain Tarrant's Farmhouse safe
2016-18
St. Crispin's Field cut regularly – grassed circular footpath introduced
2017
Replacement interpretive sign installed at St. Crispin's – by WCC
2017
Geophysical survey carried out at St. Crispin's Field
2017
St. Crispin's Cell repaired using original methods and materials – by WCC
2018
Cooperation with biodiversity expert – initiated by WCC
Three Picnic tables installed
Archaeological digs based on results of geophysical survey results
More to do …
| | |
| --- | --- |
| 2019 | Directional signage (to St. Crispin's) to be placed east of railway crossing at the Bray to Greystones Cliff Walk |
| 2019-22 | Plans developed and implemented to make the landscape of St. Crispin's Field more attractive and better reflect its history and archaeology (meadow, wild flowers, etc) |
| 2019- | Plans made and funds obtained to renovate Captain Tarrant's Farmhouse to become a visitors' centre |
See document full here: Final Rathdown Heritage Park Design Strategy 11.12.14
Click here for reference to St Crispins Cell in RTE Tracks & Trails. Fast forward to 16.58 on clock.