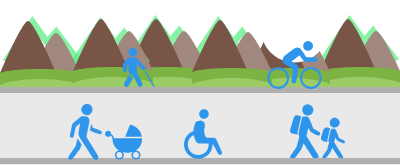 Greystones TidyTowns and many local community members advocate for safe and adequate accessibility about public roads and spaces. Accessibility covers a broad spectrum of needs from safe walking routes to area schools, wheelchair access, and cycling paths for recreation and commuters.
Safer and more convenient accessibility options about communities lift the reliance on cars for day to day mobility needs. In turn, this helps reduce pollution, carbon emissions, transportation costs, and traffic congestion. Better yet, it can also have a knock-on impact of improving personal health, financial burdens, and social connections.
Our programme has begun with our Junior TidyTowns Community Team collecting data and focusing on safe walks to schools about the greater Greystones area. We are essentially working to develop a "Walking Bus" concept that begins with the most important and safest routes.
The process involves citizen-surveying using digital mapping of our existing infrastructure. As part of this phase of the project, we also intend to survey volunteer families to see which routes they would use to walk to school. Through this process, we hope to help identify unsafe or inadequate locations, areas, and infrastructure. Seeing the "big picture" can help tackle these numerous spots as an integrated project.
We welcome partnerships from all, including the disabled community, elderly, cyclists, Municipal Council, transport authorities, and others. Join this effort to improve equality and sustainability through safe and robust public accessibility.
You can submit problem areas to our mapping system through this link. Please also report serious issues to the Council using the contact information below the map.
See the latest map updates below or here:
For serious issues please also report to:
Road or pedestrian hazard please contact: GreystonesMD@wicklowcoco.ie
Accessibility complaints at WCC: https://www.wicklow.ie/Living/Your-Council/Governance/Access-Disability/Making-A-Complaint
Find more information on accessibility in Co. Wicklow at https://www.wicklow.ie/Living/Your-Council/Governance/Access-Disability