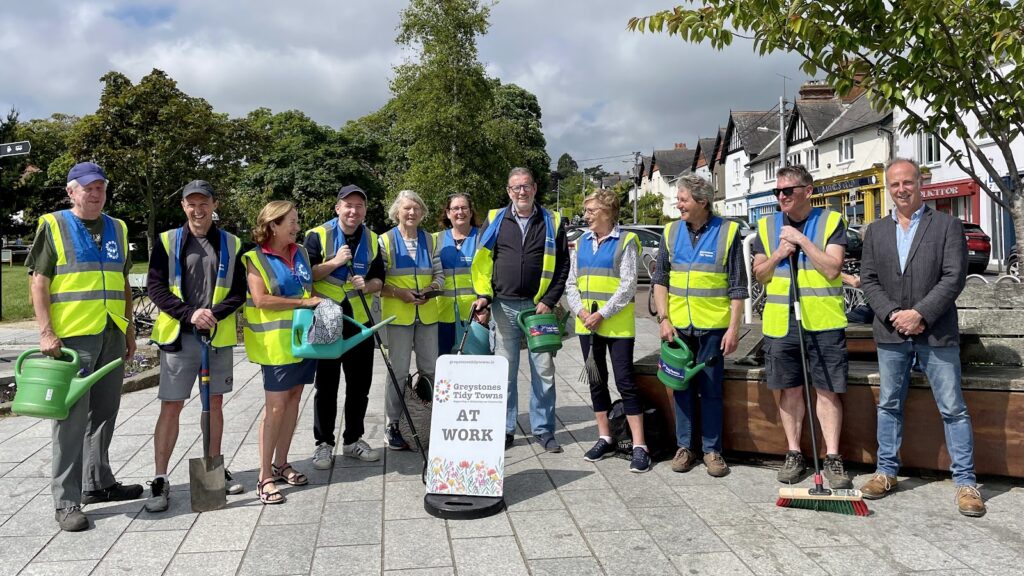 Greystones Tidy Towns (GTT) Committee was established over 20 years ago in an effort to get the community working together to ensure Greystones would always be a great place to live in, work in and also visit. We are an official chapter of SuperValu Tidy Towns Ireland. The committee has grown a lot over the years as has scope of work undertaken by the group. Many people are surprised by the variety of issues and projects from sustainability and biodiversity to local heritage preservation that GTT takes a leadership role. There is really something for everyone.
We couldn't be more pleased to have won a Tidy Towns Gold metal in 2022 and 2023, and are looking forward to keeping up the good work with the support of this wonderful community!
We have strong alliances with our local town council, schools and community groups. We encourage an all ages, fully inclusive community of volunteers who want to give back to the wonderful town and community of Greystones, Ireland. There is a core group who go out in on most Wednesday and Saturday mornings and we always welcome individuals, families and groups to volunteer as often as they like. We also have a group of TUS and CE scheme workers working with us throughout the year. If you want to contribute please fill in our contact form.
GREYSTONES TIDY TOWNS COMMITTEE 2023
| | |
| --- | --- |
| Chairperson | Dave O'Reilly |
| Vice-Chair / Biodiversity | Adam Calihman |
| Secretary | Maurice Carey |
| Treasurer | Margaret O'Callaghan |
| Junior Tidy Towns (Primary Schools) | Rebecca Gill |
| Sustainability | Dave Emerson |
| Community Liaison (Clubs & Estates) | Paula Tanham |
| Landscapes | Barbara Hammond |
| Council Rep | Cllr. Lourda Scott |
VOLUNTEERS
We are continually looking for new members.  Everyone can contribute to their local community, you do not have to commit a huge amount of time or even come out each week.
You could help out by taking care of the public area outside your house/business.
We will happily give advice or help out if needed.
If you would like to become involved please contact us on info@greystonestidytowns.ie or using our form.
PHOTOS FROM OUR GALLERY.