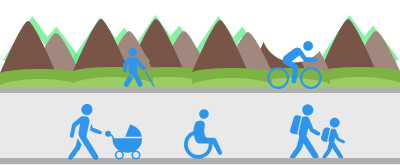 Greystones TidyTowns and other community members advocate for safe and adequate accessibility about public roads and spaces. Accessibility covers a broad spectrum of needs. These range from safe walking routes to area schools, wheelchair accessibility, and cycling paths for recreation and commuters.
Safer and more convenient accessibility options about communities lifts the reliance on cars for day to day mobility needs. In turn, this helps reduce pollution, carbon emissions, transportation costs, and traffic congestion. Better yet it can also have a knock-on impact of improving personal health, financial constraints and social connections.
Our programme began with our Junior TidyTowns Community Team focusing on safe walks to schools about the greater Greystones area. The process involves citizen street surveys with digital mapping of the areas. We will also survey families to see which routes they would rely for walking to school. Through this process we hope help identify unsafe or inadequate areas or infrastructure.
We welcome partnerships from the all, including the disabled community, elderly, cyclists, Municipal Council, transport authorities and others. Join this effort to improve equality through robust public accessibility.
You can submit to our mapping system through this form.
See the latest map updates here: