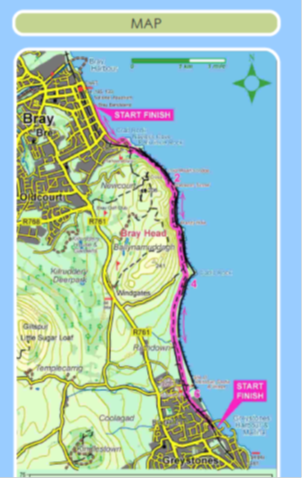 The Cliff Walk.
One of the highlights of walking in Wicklow. This linear walk takes you from Bray to Greystones along the stunning coastal path. The path is well maintained and you can return by light rail (DART) to the start point. Greystones has plenty to offer the hungry walker after beautiful views and a range of marine wildlife.
click here for RTE Tracks & Trails featurring Cliff Walk
Grade: Moderate, the route is marked with Red arrows
Distance: 7km
Estimated time: 2.5hrs
Total height climbed: 130m
Highest point: 100m
Terrain underfoot: Footpath
Suitable for: families with older children etc
Notes: return transport is available along the DART line.
GPS FOR START POINT:
Bray:  53.20192,-6.09729
Greystones:  53.149917,-6.065344
Bus:  Bus Eireann: www.buseireann.ie
Train: Irish Rail: www.irishrail.ie/‎