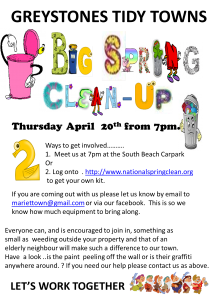 Join in on Thursday April 20th from 7pm, if you want to come out with Tidy Towns or arrange your own clean up by registering with  http://www.nationalspringclean.org/.
We are appealing to all householders and businesses in the town to take a look outside their properties and tidy up weeds, flaking paint, graffiti etc.
If there is an elderly person living next door why not offer to give a hand.  If you need help with anything just contact us, especially if there is graffiti that you cannot remove.  Let's take pride in our town and work together to show it at it's best.
On Thursday 20th we are meeting at the South Beach Car Park at 7.  We will do a litter pick throughout the town, harbour, beach and park.
Many hands make light work, LET'S WORK TOGETHER.